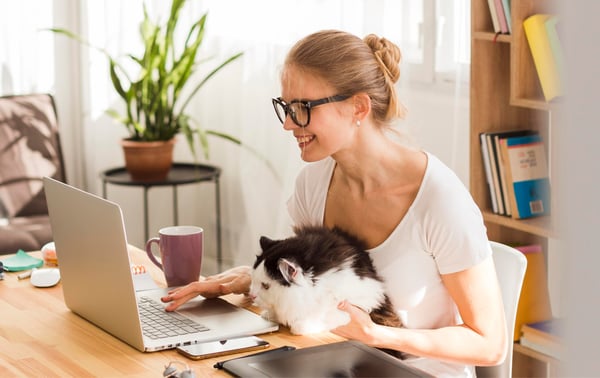 Global Mobility
How to Find Corporate Housing: Companies & Considerations
Corporate housing stands as a testament to today's evolving business world. Corporate housing refers to fully furnished apartments and residential properties available for rent on a short-term basis, primarily geared toward business professionals. Unlike standard hotels or vacation rentals, these accommodations are specifically tailored to meet the unique demands of the corporate lifestyle.
Serviced apartments combine a home's comforts and a hotel's convenience —and are fully equipped with essential amenities, such as high-speed Wi-Fi, dedicated workspaces, and fully-stocked kitchens, ensuring a seamless transition for business travellers.
But there are other reasons to invest in corporate housing outside its homely and comfortable atmosphere. Compared to the pricing of long-term hotel stays, corporate housing is often more cost-efficient and economical for the paying stakeholder. And, whether relocating, on a long-term project, or merely in town for an extended business trip, corporate housing offers flexible lease terms tailored to all tenant needs. Plus, many corporate housing rentals are strategically located near business districts, simplifying commutes and placing you right where you need to be.
This guide provide travel managers, relocation experts, and all possible stakeholders with tips for finding corporate accommodation and considerations needed to select corporate housing for your team.
Factors to Consider When Seeking Corporate Housing
Corporate housing offers a blend of practicality and home-like comfort, making it a go-to choice for businesses needing quality employee accommodation. A purely cost-driven approach may risk employee well-being while neglecting budgets can jeopardise company objectives.
Authentic travel and relocation management mastery involves weaving these factors seamlessly into each journey, reflecting the broader organisational culture and values.
Location
When scouting for corporate lease apartments on a corporate housing platform, location is paramount. Ensure your rental accommodation is centrally located near the workplace, public transportation, and other essential amenities to reduce commute times and simplify daily life. Select a house in more residential neighbourhoods for employees looking to integrate into local life. The property manager or property owner will likely provide recommendations for the area.
Budget
Incorporating a well-defined budget into business travel management or a relocation policy is essential to maintain operational consistency and ensure a standard of care across the board. A clear budget guarantees a comfortable stay and aligns with corporate financial guidelines. The price for corporate housing rentals can swing significantly based on country, length of visit, and amenities — filter options by pinpointing a budget upfront, ensuring comfort and fiscal responsibility.

Duration of Stay
Short-term corporate housing typically caters to stays ranging from a few days to weeks, offering convenience without a long-term commitment, while, in contrast, long-term solutions, designed for several months or more, often feel like a "home away from home" with additional amenities and customisation options. Matching the housing option with the intended stay duration is essential to maximise comfort and value.
Amenities
Today's corporate accommodation is not just about hotel rooms and a roof over your head. Essential amenities like high-speed Wi-Fi, ample parking, fully-furnished units, and even gyms can make a stay more comfortable and productive. There are also additional concierge services that guests can expect to pay for, including daily catering or chef services, regular cleanings, or even wellness treatments like in-house acupuncture or massage.
Safety and Security
Security should always be considered. Check that the chosen corporate housing option has top-notch security measures, including surveillance cameras, secured access, and in some cases, security personnel.
Or, partner with a corporate housing solution that prioritises duty of care. For example, AltoVita thoroughly vets and verifies property owners of all properties to provide a duty of care and compliance. It also partners with Breezeway to award safety badges to reviewed and approved apartments.
Finding the Perfect Corporate Housing Solution
Global mobility and business travel trends increased the need for suitable, comfortable, and strategic accommodation that extended-stay hotels or an unfurnished apartment can't meet. As businesses find ways to ensure traveling employees are well-settled and productive, corporate housing emerges as the most sought-after solution.
Below, we explore the avenues available to find the perfect corporate housing fit for any professional's needs.
Corporate Housing Companies
With an exclusive focus on the needs of business professionals, a few of the best corporate housing companies have emerged as experts in providing tailored accommodation. These companies are dedicated to crafting a balance between the comforts of home and business conveniences, ensuring that professionals can seamlessly integrate into their temporary homes while fulfilling their job roles and attending all business meetings.
Pros:
Streamlined Process: These specialised companies oversee everything—from scouting ideal locations to ensuring they are furnished adequately. This end-to-end service provides a smooth experience.
Dedicated Support: Their expertise in the domain means they're always on hand to guide, answer questions, and troubleshoot any challenges during one's stay. They can create a video tour for prospective guests and operate like true professionals.
Customisation: Recognising that every professional's needs can be unique, many companies provide tailored solutions.
Cons
Cost: These specialised services may come at a premium.
Availability: Options might be restricted to the properties the company manages or their partnerships, possibly limiting variety.
Examples of Leading Corporate Housing Companies
AltoVita

: AltoVita is a forerunner in the corporate housing domain. With a robust technological backbone, they've demystified the complexities of corporate housing, focusing on quality, consistency, and user experience.
CASE STUDY
How can streamlined corporate housing affect a global company? Hewlett Packard Enterprise partnered with AltoVita to transform its approach to global mobility and streamlined its extended stay rental process, leading to more efficient and cost-effective relocation management and programs. HPE already successfully relocated employees in 52 locations across 28 countries.
Since HPE has implemented AltoVita's global mobility software, the conversion rate from inquiries to bookings has increased to 86%. AltoVita also delivered a 12% cost saving on HPE's budget for all extended stay accommodation unit bookings in 2022.
"HPE's partnership with AltoVita has been a game-changer in our global mobility programs. With their flexible and customisable platform, we were able to provide exceptional relocation solutions to our employees," said Kerwin Guillermo, Global Head of Mobility at HPE.
"The lessons learned, and innovations introduced through this partnership have been invaluable to our business and other clients, improving our cost management and boosting employee job satisfaction and retention rates."
Online Platforms
With user-centric designs, these platforms focused on corporate accommodation enable professionals and businesses to find suitable housing options from virtually anywhere.
Advantages of Using Online Platforms:
Convenience: The ease of browsing, analysing reviews, and booking from one's device.
Variety: Cater to diverse preferences and budgetary constraints.
Transparency: Detailed listings, reviews, and ratings enable users to make informed decisions.
Drawbacks:
Overwhelming Choices: The vast array of options can lead to decision paralysis.
Impersonal Experience: Lacking the personal insights a direct interaction can provide.
Possible Misrepresentations: Potential disparities between listings and reality.
Prominent Online Platforms:
Real Estate Agents
While technology has reshaped the property search, there's still a significant place for real estate agents, especially those specialising in corporate housing. Their in-depth understanding of the market and expansive network make them invaluable in finding the perfect corporate apartment or accommodation.
It's important to research potential agents, understand their market reputation, their experience in corporate housing, and the properties they've handled. Clear communication of requirements around budget, location preferences, and duration of stay will help the agent find the perfect rental property.
While they provide expertise and negotiation skills, remember there might be associated fees and a potential limitation in their property options.
Temporary Housing vs. Extended Stays: Which is Best?
Corporate housing solutions cater to diverse business travel needs, offering customers a unique blend of comfort, functionality, and flexibility.
Short-Term: Ideal for Business Trips & Temporary Assignments
Short-term corporate housing stands out in its ability to merge the convenience and services of hotels (like housekeeping and concierge services) with the comfort and functionality of staying longer in a private residence or apartment. It eliminates the impersonal feel of hotel rooms, giving business travellers a space to relax, work, and even entertain, all within a familiar setting. For professionals on the go, short-term corporate housing offers the perfect solution.
Long-Term: Perfect for Extended Projects or Relocations
Long-term corporate housing offers a seamless transition for those facing longer stints away from home for extended projects or relocations. This accommodation prioritises creating a home-like environment, vital for maintaining well-being during prolonged stays away from one's usual residence.
One of the main advantages of long-term corporate housing is its flexibility. Units often come with customisable furniture arrangements and sometimes even the option to purchase and incorporate personal items, ensuring a tailored living experience. Furthermore, including utilities, regular maintenance, and other essential services reduces the logistical burden on the short-term housing occupant, allowing them to focus solely on their professional commitments.
Key Takeaways Conclusion
Navigating the world of corporate housing can appear complex, but with the right tools and knowledge, securing the perfect accommodation becomes a straightforward process. Here's a quick recap of our key insights:
Understanding Needs: Whether your stay is short-term for business trips or extended for project assignments, aligning the type of corporate housing with your needs is paramount.
Location and Amenities Matter: The right location can significantly affect productivity and well-being, while amenities transform a mere stay into a comfortable experience, ensuring efficiency and relaxation. Corporate housing offers so much beyond renting a hotel room.
Budgeting: Setting a clear budget aligned with a business travel or relocation policy guarantees a consistent standard of operations, ensuring a seamless accommodation search.
The Role of Experts: While real estate agents offer personalised insights and contact, the digitised solutions of online platforms streamline the entire process, offering choice and convenience.
The Rise of Online Platforms: With an array of platforms available tailored to cater to all aspects of corporate housing needs, the search has always been challenging.
As corporate travel dynamics evolve, AltoVita leverages technology to simplify an otherwise lengthy process, ensuring businesses find accommodation that resonates with their ethos and requirements, whether for relocating executives to junior salespeople on a short business trip. While various avenues exist to find corporate housing, AltoVita ensures a blend of convenience, variety, and quality, marking the future of corporate accommodation.
FAQs
Q: What are the considerations for corporate housing?
A: When evaluating corporate housing options, it's essential to factor in location, ensuring proximity to the workplace or city centre and necessary amenities. Additionally, one must account for the budget, the duration of stay, the costs, and desired amenities, all while ensuring the safety and security of the chosen accommodation.
Q: How do I find corporate housing?
A: Finding corporate housing has been more straightforward with the rise of specialised online platforms. While you can still engage with real estate agents and landlords specialising in this area, platforms like AltoVita offer streamlined, user-friendly solutions for locating ideal corporate accommodation.
Q: What are some corporate housing platform options?
A: Numerous platforms cater to corporate housing needs, including AltoVita, Navan, Airbnb for Work, CorporateHousing.com, and Booking.com for Business. Each offers unique features and listings tailored to different corporate travel requirements.