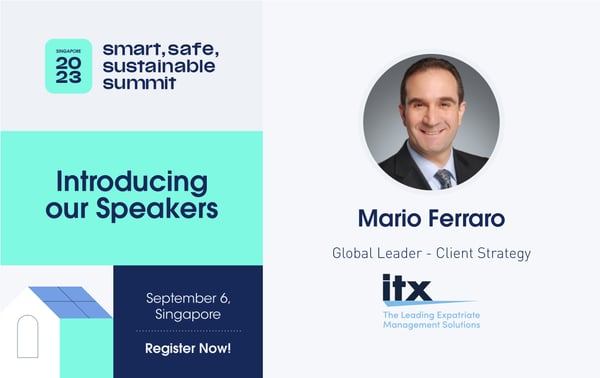 Smart, Safe, Sustainable Summit
A Pragmatist's Approach to Diversity, Equity and Inclusion — Speaker Preview
Many businesses in the Asia Pacific region are currently exploring Diversity, Equity and Inclusion (DE&I) within their mobility programs and actively learning more about it, according to Mario Ferraro, Global Leader - Client Strategy at consultancy ITX.
Mario will be hosting a roundtable dedicated to this key subject at the Smart, Safe, Sustainable Summit in Singapore on September 6.
"I aim to focus the discussion on realistic and pragmatic ways of embedding DE&I principles in every aspect of global mobility, including policies, processes, compensation, and HR service delivery, and how these initiatives need to fit into the broader culture and DE&I priorities of each organisation," he says.
The expert believes that western organisations in the Asia Pacific, generally speaking, are ahead, with local and regional players keen to catch up fast.
That's because there are complex factors at play, which can ultimately determine the speed of adoption of DE&I initiatives in each organisation, including deep cultural traditions, rapid economic growth, and fierce competition for talent.
"Providing equal access to international opportunities, without biases or prejudices, is critically important, and it will ultimately benefit the entire organisation."
Having an effective global mobility programme has been demonstrated to benefit both the organisation and its employees. Mario thinks that international exposure enriches individuals in terms of their personal and professional experience, and it is often considered a prerequisite for career progression and leadership roles.
To make it work, businesses need to undertake a holistic and enterprise-wide approach, based on top-level stewardship and supported by a strong organisational culture.
DE&I is also a cornerstone of Singapore's Complementarity Assessment Framework (COMPASS) scheme, which will be discussed at the summit.
"Providing equal access to international opportunities, without biases or prejudices, is critically important, and it will ultimately benefit the entire organisation," he adds.
Meanwhile, the consultant believes events such as AltoVita's Smart, Safe, Sustainable Summit series are essential considering the rapid pace of change in the industry .
"The networking and cross-pollination of ideas are some of the most valuable outcomes of such events," he says. "It is critical to constantly monitor how each organisation is responding to these changes, and how global mobility is evolving, as a result."
ITX, according to Mario, is behind the mobility programmes of some of the world's leading organisations — a fact most people don't know, he claims. "ITX is in the business of mobility transformation. We help large multinationals and mid-size organisations achieve simplification, efficiency gains, cost containment and enhanced compliance."
Global mobility professionals attending the summit will be able to join Mario's roundtable, as well as other subjects. Other roundtables will cover "Evolving Travel & Mobility Policies With Smarter Technology" and "Uniting Business Travel and Global Mobility", which will be hosted by Selena Shen, Manager, Client Services at Altair Global.
There are limited spaces remaining for the Smart, Safe, Sustainable Summit, which is being held at Swissôtel The Stamford in Singapore on September 6. Register today to secure your place.
This event series moves from London to the Asia Pacific region for the first time, and will take the pulse of a broad range of topics, including sustainability and accommodation sourcing strategies — topics that are more important then ever as the APAC region's corporate hospitality sector rapidly recovers after the lifting of pandemic restrictions.