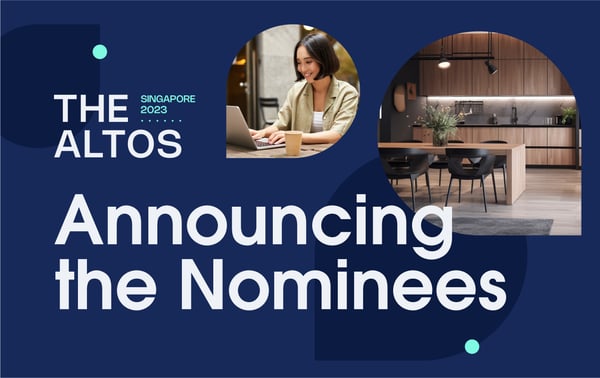 Events
The Altos
The Altos Singapore 2023: Announcing the Nominees
We are thrilled to unveil the esteemed nominees for The Altos Singapore 2023 Awards, a celebration that recognises excellence and innovation in the corporate accommodation and hospitality industry in the Asia Pacific region. With a mission to showcase the best in the business, The Altos Awards have become a prestigious platform for acknowledging outstanding achievements. This year, after three successful editions in London, we are proud to bring this celebration of innovation to the vibrant Asia Pacific region for the very first time.
Categories and Nominees
Best Sustainability Initiative
Dao by Dorsett AMTD Singapore
Novotel Living Singapore Orchard
Far East Hospitality
Treetops Executive Residences
Pan Pacific Serviced Suites Orchard, Singapore

Fraser Residence River Promenade, Singapore

Lyf by Ascott
Excellence in Safety & Security
Astra Apartments
Aurealis Serviced Residence
Most Innovative Use of Technology
Pan Pacific Serviced Suites Orchard, Singapore
Urban Rest
Best Hospitality Operator
Dao by Dorsett AMTD Singapore
Little Tai Hang Hotel Management Limited
Pan Pacific Serviced Suites Beach Road Singapore
Far East Hospitality
Pan Pacific Serviced Suites Orchard, Singapore
ONYX Hospitality Hong Kong Ltd c/o Shama Serviced Apartments Hong Kong

Frasers Hospitality

The Ascott Limited
Best Interior Design
National Hotels
Dao by Dorsett AMTD Singapore
GLORIA RESIDENCE
Grand Hyatt Mumbai

Fraser Residence Orchard, Singapore

Ascott Orchard, Singapore
Rising Star
The Rising Star category acknowledges individuals who have made significant contributions to the sector's growth and development and who have demonstrated their legacy and durability of their achievements. The winner will be revealed during the awards ceremony!
The Awards Event
We are excited to invite you to The Altos Singapore Awards Ceremony, which will take place at Swissôtel The Stamford Singapore on the evening of September 6. This exceptional event is dedicated to honouring hospitality operators of corporate housing and accommodation software platforms. The Altos Singapore event will span from 3pm until 9pm and promises an insightful showcase of thought leadership and industry expertise.

The evening will culminate in the highly anticipated awards ceremony, where The Altos winners will be celebrated for their exceptional achievements. Following the ceremony, join us for a drinks and networking reception, featuring our signature AltoVita cocktails. This is your chance to connect with fellow industry professionals and celebrate the remarkable accomplishments that continue to shape the landscape of corporate accommodation in the APAC region.

Mark your calendars and join us in Singapore for an evening that promises to elevate your understanding of innovation and excellence in the corporate accommodation sector. The Altos Singapore 2023 Awards are not just an acknowledgment of achievements; they represent a commitment to fostering growth, inspiring innovation, and forging meaningful connections within our dynamic industry.

Stay tuned for the big reveal as we announce the winners at the awards ceremony. We look forward to seeing you on September 6 at Swissôtel The Stamford Singapore.

For more information and updates, please visit our events page.