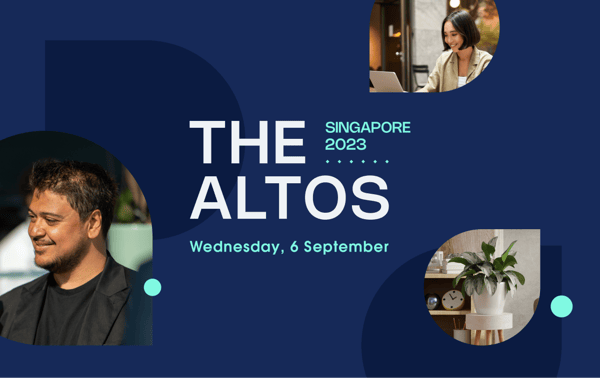 Events
The Altos
The Altos Heads to Singapore! Recognising Corporate Housing Innovation Across the APAC Region
AltoVita is bringing The Altos to Singapore on September 6.
The Altos is the only awards-themed event dedicated to hospitality operators of corporate housing accommodation and hospitality software platforms.
This special edition of The Altos focuses on the Asia Pacific region, and takes place 4pm until 9pm at Swissotel The Stamford.
On top of the recognition ceremony, it features a keynote presentation, panel debates, drinks reception and lots of opportunities to network.
The event is now in its fourth year, and follows a highly successful event in London in December last year. Check out the pictures from last year's event here, and view the full list of winners The Altos 2022 here.
Why Attend?
Industry Recognition
An Altos Honour recognises the best in the industry, offering exposure to AltoVita's global community via social channels, future events, and marketing campaigns.
Build New Relationships
Join hospitality operators, corporates, and industry experts in this intimate setting. Build long-term relationships with businesses looking for their next hospitality partner.
Discover valuable insights
Drive your business forward with insights from innovative panel discussions and roundtable sessions. Hear from experts and highly-valued professionals in the industry, who will discuss a range of topics, including sustainability data, design and the impacts of remote work.
We'll also be diving into specific destinations within the Asia Pacific region, sharing valuable data and insights, as well as relocation and corporate travel trends.
The Altos categories
Best Hospitality Operator – Asia Pacific
Best Interior Design
Most Innovative Use of Technology
Excellence in Safety & Security
Best Sustainability Initiative
Rising Star
Ticket reservations are now open — spaces are limited so early booking is advised.
Thank you to our media partners The Independent Hotel Show, Serviced Apartment News, Hotels-Asia, Sustainable Hotel News and Urban Living News.
AltoVita Smart, Safe, Sustainable Summit
Did you know The Altos takes place on the same day as the Smart, Safe, Sustainable Summit? This morning/afternoon event focuses on the global mobility and corporate travel communities, bringing together experts across a range of industries. Find out more about the event here.